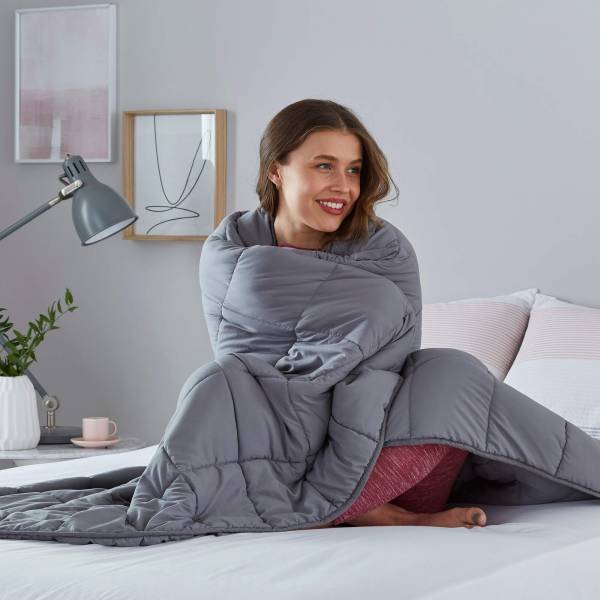 First, the medical community introduced weighted blankets as a "deep-pressure therapy" to treat behavioral disorders as they helped patients to relax. Now, physicians continue to believe that the pressure such a cover provides contributes to the development of hormones in a person's body, which can improve their sleep. It is little wonder that a weighted blanket has become an ordinary option preferred by anyone who suffers from anxiety and insomnia. Both adults and older children can benefit from this stunning effect.
This might be a good choice for those who take care of their well-being and, at the same time, prefer to have advanced technology in their bedrooms. But we bet some of you can share the experience of feeling a weighted blanket a little bit heavy. Also, in our opinion, it can be a rather undesirable solution for little kids Actually, if you expect a therapeutic effect from a weighted blanket, you'll be surprised at how different it can be for various people. If a cover is too heavy, you will suffer from discomfort. How should you choose it to avoid side effects? If it's important to you to enjoy your sleep time, we recommend reading this article by the end.
Why should you take the purchase of a weighted blanket seriously instead of buying a random one?
We know that sometimes it is not so easy to fall asleep, even if we are physically sound. The matter gets worse when people suffer from health conditions, that cause inconvenience. They may feel pain or just be too anxious. And even without any sleep issues, many of us just prefer cozy bedding. In all the above cases, a weighted blanket is the best solution. But, this item is not as simple as we'd like it to be. You should know the right weight for you to benefit from it.
But when you choose that right weight, you will enjoy the so-called "Deep Touch Pressure," stimulating the production of a get-happy hormone. Serotonin production is connected with a get-sleepy hormone, melatonin, which reduces stress. That is why it is vital to find an item that can provide you with enough DTP to make your body work expectedly. It impacts your nervous system, which slows breathing and reduces heart rate, making your mind calm and relaxed. As a result, you'll have better sleep, which improves your well-being in general. While poor sleep always leads to serious health consequences.
What is the best weight for a weighted blanket?
So what should be considered when you choose a weighted blanket? You should determine your body weight, and 10% of this amount will be the weight of a weighted blanket suitable for you personally. Of course, this is a matter of preference. You can buy a heavier one—just add two pounds. If you buy such a blanket for children, you should probably not deviate from the initial level.
There is a very important issue: the experts suppose that weighted blankets should not be used for little children (toddlers and kids who are under 4 years old) because they can fail to push them off without exterior help if they feel it is too hot or stuffy.
If you want to get the absolute values, then you should focus on the following ranges: 10 lbs - 25 lbs for adults and 6 lbs - 8 lbs for children. Or you can use the table below to choose the right blanket.
table
We think you should not refuse to follow the recommendations of experts. However, if you are certain that you will be more comfortable under a different weight blanket, go ahead! You can try things out. In this case, you'd better start with a slightly lighter item to understand the effect.
What if you have to choose between two weight recommendations?
Once again, this is crucially important to get the needed pressure to achieve the expected result – to relax and have a healthy deep sleep. So, if your physician does not tell you about particular restrictions related to your mental or physical conditions, you may decide on your individual experience.
The common recommendation is to choose a lighter blanket if you're super petite, and a heavier one if you're a bit heavier. Try it and judge. Of course, tasting can be a solution only in that case, when numerous attempts are within your budget.
Is It Possible to Buy a Too Heavy Weighted Blanket?
Please pay attention to this question! The answer to it is "yes". The weighted blanket can weigh too much. It can be very heavy and cause discomfort. If its weight does not correspond to the value suitable for your own weight, you may find it difficult to move under such a blanket. An item weighing about 35 pounds and over is not for everybody.
What size of a weighted blanket is perfect?
Mind that your body type does matter too. It should be considered when you determine the size of a blanket, which should be wide and long enough to cover you properly from the neck down. Though the sizes of bedding in the category are standard and you may choose an appropriate variant without difficulty. There are sizes for adults and kids, as usual. But here you should pay more attention to height and width to avoid hanging a blanket over the bed. Otherwise, it can slide off the bed under its own solid weight. You should consider the dimensions of your mattress to understand your needs.
What about filling?
The weighted blankets can be filled with plastic pellets and glass beads. Which one should be chosen? The former is the most commonly used material. The pellets are made from polypropylene, which is safe, flexible, non-toxic, and cost-effective. The blanket with this filler is easily cleaned by being submerged in water. Though, if the rustle coming from inside, which can be heard slightly, irritates you, it is better to try a different filler.
Glass beads are the advanced solution which is more expensive compared with the previous one. The material is environmentally friendly. People suffering from allergies can afford it. These beads are smooth and really tiny, resembling sand crystals. And if plastic pellets can be inconvenient due to their uneven texture, the glass analogs are perfect in this regard. Also, they are heavier, and that means that a blanket of the needed weight can be thinner. And again, a blanket filled with glass beads can be easily washed and dried.
Also, you can find a weighted blanket filled in with polyester fiberfill which makes it quite warm and less breathable. There are models with steel shot beads in the event you want something heavy for the summer season.
Read it! The weighted blanket should be heavy, but it is not expected to bring discomfort. It should not restrict your moves during your sleep.
Buy a Weighted Blanket Being Sure in Its Quality!
When you take into account the above recommendations and set about buying a weighted blanket, you should choose a reliable and reputable manufacturer. There are quite a few brands in this market segment. It's for you to decide. But ensure that the products are delivered with guarantees of their safety and quality. It is better if they come with a certificate of compliance to prove the required effect, which is supposed to remove your sleep issues. It is suggested that you consider weighted blankets with additional options like a warm covering.
We provide our customers with the widest choice of weighted blankets of high quality. You can view the collection here:
You are welcome to contact us if you feel confused when choosing blankets or placing orders on our website. We are always glad to be of help! Opt for quality bedding! We'll bet you'll have a deeper sleep, a calmer night, healthy rest, and ultimate relaxation!

STAROON WEIGHTED BLANKET

https://www.staroon.com/HANDMADE-WEIGHTED-KNITTED-BLANKET-pd47212631.html
https://www.staroon.com/WEIGHTED-BLANKET-pd43705553.html