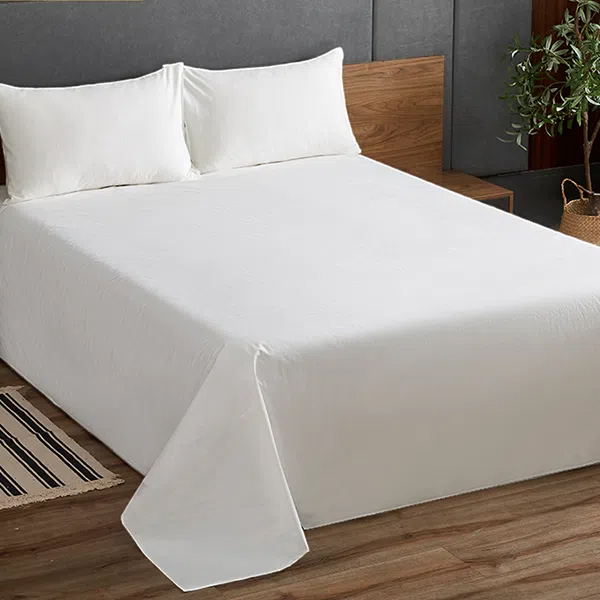 Have you ever wondered why you choose this or that bed linen and then your choice turns into somewhat disappointing? Perhaps the whole point is exactly what you are looking at first when buying sheets, pillowcases, or duvet covers.
So, let's imagine. You come to the bedding store (or open a website if leaving the house is not in your plans yet), look through all that variety, and buy something that you really fall for – a stunning color, a luxurious pattern, and perfect in size. However, sleeping on these sheets does not bring satisfaction, and you feel discomfort? We will give you a hint: most likely, the material your bed linen is made of slipped your attention.
Doctors and designers insist that high-quality bed linen can be made only from natural materials. And if silk is very expensive, and linen is not too practical, then cotton perfectly meets all the criteria that are important to you. Would you like to see it for yourself? So, this article is for you.
What is Cotton Bedding?
Cotton is a natural material obtained from plants, and because of this, it is very clean and eco–friendly. In addition, it is surprisingly soft and pleasant to the skin, it passes air well and effectively removes moisture and retains heat so that you are neither hot in the summer nor cold in the winter. That's why cotton has become one of the most popular fabrics for bed linen.
You should also know that there are different types of cotton fabrics. Depending on the thickness and the way cotton threads are twisted, specialists in factories create canvases of various densities, thicknesses, and textures. You've probably heard of names like Egyptian Cotton, Pima Cotton, Flannel, Percale, Sateen. Well, all of these are 100% cotton fabrics. They can be dense and with a slight shine, like bed linen in expensive boutiques and luxury hotels, or they can be cozy, soft, and rather, thin like ordinary sets of sheets and pillowcases. However, all their properties remain very, very attractive. And we are going to talk about them a bit later.
Reasons to Choose Cotton Bed Linen
You may have already started thinking about bedding made of 100% cotton. And if your interest just grows stronger, we will talk about all its benefits, which we mentioned above only in passing – however, this time we will offer more details to you. Are you ready? Then don't lose the thread of the conversation – it is going to be fascinating!
Natural softness
Every touch of a sheet or pillowcase made of good natural cotton to your skin can be so gentle and soft that you relax and feel like you are in a cozy embrace. This means more if you are under a lot of stress and have some difficulties falling asleep (even if ice cream gives you too little help).
In addition, owners of sensitive skin definitely consider cotton bedding to be a necessity. If you are in the club, you probably know how important it is to avoid materials that can cause irritation and other unpleasant symptoms.
So, 100% cotton bedding is exactly what you are looking for to have a good night's rest and see beautiful dreams.
It's breathable!
It's not that we mean that your sheet or duvet cover is some kind of living organism that will frighten you with strange sounds at night. In this case, we are talking about the fact that the cotton fabric passes air through to a very pleasant extent. This means that the excessive heat of your body (especially when you are hot) will be compensated for by the influx of fresh air. You will feel a delightful coolness even on a stuffy summer night, and it will be a real gift if you need a good rest.
At the same time, with the onset of cold weather, this process will be reversed. Cotton threads are fluffy enough to retain heat well, and therefore, your bedding will warm you in the winter without excessive stuffiness and the need to wear very warm pajamas.
Commendable longevity
The bedding made of high-quality cotton fabric may delight you with its excellent durability. Cotton threads are quite flexible and strong. They remain the same even after numerous machine washes, and therefore you can keep your sheets fresh all the time.
In fairness, it is worth mentioning that some modern mixed and synthetic materials are more durable and can last a very long time. However, it's all about the details. Cotton bed linen made of dense, tightly twisted threads (sateen, for example) retains its impeccable condition for 8-10 years, which not every synthetic is capable of. So, changing the natural material makes no sense – it wins again!
Simple care is a bonus for lazybones
When buying products made of synthetic fabrics, you have to study the instructions for their care thoroughly. So, some sheets made of these materials can be washed only at a certain temperature, some cannot be wrung out, and ironing at high heat is strictly prohibited for some of them. By choosing cotton bed linen, you can protect yourself from all these troubles, because it is much easier to take care of.
You can wash sheets, pillowcases, and duvet covers made of 100% cotton in the washing machine at the usual mode and use detergents and conditioners that you are used to. Some housewives advise doing this separately from other clothing and textiles, but this is a matter of habit. In addition, do not forget to iron cotton bedding so that it looks very clean and neat – natural fabrics wrinkle so easily!
Choosing the temperature of the iron is simple: the denser the cotton is, the more heat you will need.
Amazing design and variety of colors
Manufacturers and bedding brands are in constant search of new ideas, prints, and dyes – and most of their ideas are very successful. Today, you can choose from hundreds or even thousands of patterns and shades of cotton sheets and pillowcases without being afraid of their fading: the colors of high-quality bedding remain bright and saturated even after numerous washes.
If you prefer plain bedding, there is an amazing variety of cotton sets in light and pastel shades, including soft white, nude, creamy, dusty rose, etc. Many believe that the combination of gentle, calm colors and natural texture sets up for good rest the best of all. Well, maybe it makes sense to check it out.
Good for our planet
Natural cotton for your bed linen is beneficial to both you and nature. Like any natural product, it is biodegradable and eco-friendly, and therefore it will not harm either you or the environment—no wonder that it has become one of the most popular types of recycled materials. If you are concerned about the future of our planet, all this sounds motivating.
So, now you know how important it is to pay attention to the fabric of your bedding and how useful it is to choose sets made of natural cotton. Of course, we do not insist on this very material, but the choice and positive feedback from millions of people around the world is a good reason to think it over.
Bed linen made of 100% cotton remains a universal option for both adults and kids. Easy to buy, easy to care for, pleasant to feel – they are these sheets, pillowcases, and duvet covers that help you create a perfect sleeping place.
However, you will be able to enjoy all these benefits (and enjoy them for a long time) only if your bed linen is made of high-quality cotton. We have something to give you as an example:
Have a good sleep!