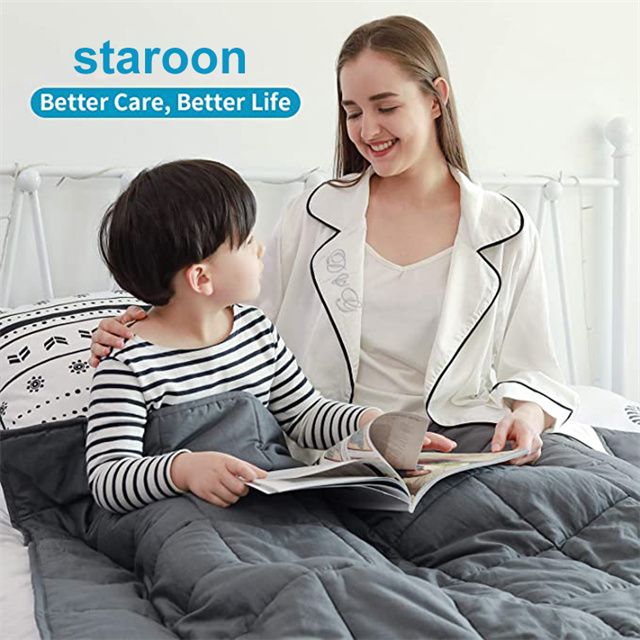 What Are The Pros And Cons Of A Weighted Blanket?
Weighted blankets are a form of deep pressure touch therapy that is meant to provide comforting weight. These blankets can be filled with layers of fibers, pellets, or other materials and distribute the weight evenly across the blanket, so the person using it feels secure and stable when sleeping.
Weighted blankets have been shown in research studies to help people who experience anxiety from PTSD or OCD by providing a sense of safety which helps them sleep better.
This has been shown to improve their quality of life drastically as they're able to function on a more regular basis without these disorders getting in their way. However, weighted blankets do come with some cons that need consideration before making your purchase!
Pros And Cons
We are all familiar with the benefits of a weighted blanket. These blankets are made to provide deep pressure touch therapy, which is an alternative therapy that's been used for years in many different fields including Occupational Therapy, Physical Therapy, and Mental Health Counseling.
The weight can give you comforting feelings of security and stability when you sleep on it, but there are some pros and cons too! Let's explore these now.
Pros:
- Weighted blankets are a form of deep pressure touch therapy.
- Can help promote relaxation and ease anxiety.
- The weight is evenly distributed across the blanket to provide comfort and stability for those who use it.
Cons:
- Because weight is evenly distributed, it can make the user too heavy to move.
- Aren't meant for people who are very sensitive.
- Should never be used as a restraint.
What Is Inside A Weighted Blanket?
There is a bunch of fiber or pellets that are used as the filling. The weight of this material will be distributed evenly across the span of the blanket, so the person using it is always feeling secure and stable.
The weight of these blankets can range anywhere from five to thirty-five pounds depending on the size. The weight may seem like a lot, but when you're sleeping it's just enough to feel safe and comfortable.
These also come in various shapes. For instance, there may be a blanket that is shaped like a standard bed sheet which would help make it easier to direct the weighted portion of the blanket. Other shapes, like quilts and circles, are also available depending on the desire of the customer.
How Do Weighted Blankets Feel?
These blankets are meant to be a source of sensory relief for children or adults that suffer from conditions that can benefit from deep pressure touch therapy.
Sensory conditions may include autism or anxiety disorder in kids, but they can also help with conditions like:
- Autism
- Attention deficit disorder (ADD)
- Blindness
- Chronic pain condition
Weighted blankets are meant to be therapeutic so that they will provide an added sense of security. It can help calm someone down and get them ready for a good night's rest.
Adults that suffer from insomnia also find these weighted blankets to be extremely helpful throughout the night. The weight of the blanket can help lull the person back to sleep if they wake up during the middle of the night and can't go back to bed.
If this is a condition that you suffer from, it might be worth it to invest in it.
How Much Does It Cost?
This is an aspect where many people will be surprised to find out that they are actually very cheap! You can expect to pay somewhere between $30 - $80 for a good quality blanket.
With the added benefits that these blankets provide, this is definitely a reasonable price. If you are simply looking for something that will help you sleep better, then you can go with a cheaper option, but if your condition is serious enough that it requires daily therapy in order to function properly, then this may be something that's worth investing in.
How To Wash A Weighted Blanket (Instructions)
You can wash your weighted blanket in the washing machine or by hand to ensure that it stays clean. I would recommend washing it at least every six months. But if you've had an accident (like spilling tomato sauce), you should wash it as soon as possible.
I like to use the gentle cycle, the lowest water level, and cold water for my blankets. Just make sure not to use too much detergent or fabric softener because these can leave a residue that will be very heavy for your blanket.
Instructions:
- First, pour cold water into the machine
- Add detergent (do not add bleach or fabric softener)
- Then add the blanket to be washed. More than 20 pounds (depending on the capacity of the washing machine) is recommended to send to the laundry.
- After all the items are in the washer, set it for a small load.
- Once they have been through one cycle in the wash, run them in another for an extra rinse cycle. This will help remove any residual detergent.
- Hang your blanket to dry outside or on an indoor rack. You can also use a dryer on a low heat setting for about 30 minutes to fluff the fibers (drying can extend the life of the blanket).
-
Note: If you're washing a large blanket, be sure it is in a large front loader machine that has a "large load" setting.
Since they are so large, It can be hard to clean and dry. They require a lot of extra time and attention - so if you don't have the patience, this may not be for you.
Are Weighted Blankets Hot
Though these are generally considered to be bulky and warm, some brands keep this in mind and create thinner, cooler weighted blankets that weigh about ten pounds (4.5 kg.).
These blankets come with some insulation properties as well, so they will heat up on cold nights and stay cool on hot nights.
Best Weighted Blanket For Kids
Are you thinking of where to buy a quality weighted blanket? The first step to finding the best-weighted blanket is to identify what you're looking for. We offer a huge selection of colors, styles, and weights on our website: www.staroon.com.
Weighted blankets are meant to be a form of deep pressure touch therapy; they come in various shapes, styles, and weights that are good for children. However, identifying what you're looking for may take some time and thought, so it's important to be thorough.
Conclusion
A weighted blanket is a common treatment for anxiety, depression, and insomnia. The weight in the blanket provides deep pressure that can help with these conditions by tricking your body into thinking it's being hugged or held.
You might be wondering what are the pros and cons? Well, they're not without their downsides - they can't be used when you need to get up quickly, which makes them difficult if you have an emergency at night time; some people may also find them too heavy or hot during certain seasons.
But overall, there are many more benefits than drawbacks associated with this type of product. So do you want to buy one for you? You can find the best at our website: https://www.staroon.com/Weighted-Blanket-pl3507051.html