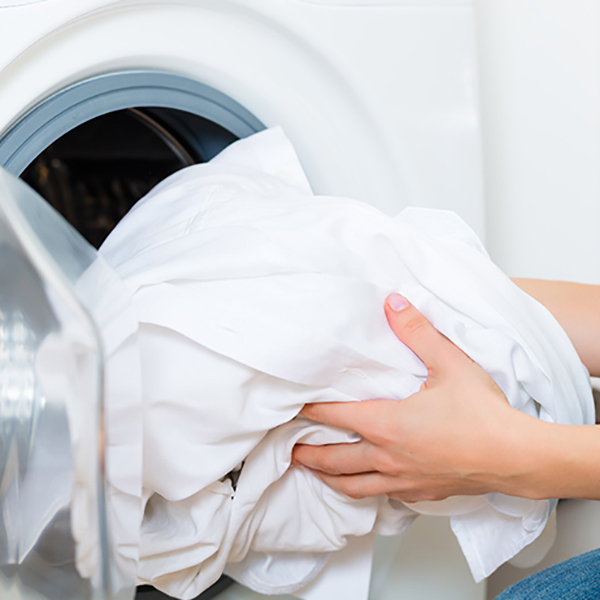 Your bamboo bedding brings comfort, health, and freshness. Mmm ... sleeping on these sheets is like a promise of some new energy! However, if you want to prolong these fantastic sensations as long as possible, it is important to know how to properly take care of bamboo fiber products.
The fact is that it is completely different from the cotton or microfiber we are used to and which we can throw into the washing machine and wash together with other clothes or textiles without any doubt. The secret lies in the technology of bamboo fiber processing: first, specialists melt it and turn it into a viscose gel, then pass it through very thin holes, where it takes the form of threads, and then weave a cloth. This chemical process is complicated, but thanks to it, you can arrange an amazing sleeping place!
At the same time, bamboo fiber bedding requires delicate handling and proper care. We will be happy to tell you how to keep your duvet covers, sheets, and pillowcases in perfect condition so that they last as long as possible (and maybe even become a family heirloom).
How to Clean & Dry Bamboo Bedding: 5 Valuable Tips
We won't bore you with long stories about how to keep your bamboo bedding spotless. Our guide will be brief and clear, and we sincerely hope that you will learn everything you need to know about the care of sheets and pillowcases made of this fantastic natural fiber.
Wash and Dry Bamboo Bedding at Low Temperatures
Temperatures below 30 degrees Celsius (86 degrees Fahrenheit) are considered ideal for bamboo fiber. You can increase this figure during the first wash if you need a slight shrinkage under the mattress, pillows, or blankets, but stick to lower temperatures in the future.
Look at the Tips on Your Washing Machine
Up-to-date washing machines will tell you which mode you need for bamboo bedding by itself. Almost always, it is marked as "Delicates", or "Hand wash", or something like that.
If there are no similar labels on your device, do not worry – just choose the lowest temperature and the lowest spin speed that is only available on your washer. It is these conditions that allow you to preserve the structure of bamboo fibers and avoid their premature abrasion and damage.
A small remark for those who prefer hand washing: do not rub your sheets and duvet covers too hard. After all, it's not an Aladdin's lamp but you may well get pellets on your bedding. You don't need them? Then act more gently. And in order not to need to apply unnecessary and even dangerous efforts, wash bamboo products promptly and choose the proper detergents.
Wash Bamboo Bedding Separately from Other Clothing and Textiles
Your favorite clothes, curtains, and sometimes even tablecloths and napkins are far from the best neighbors in the washing machine for bamboo bedding. Decor and accessories (including zippers, buckles, hooks, rhinestones, sequins, etc.) can leave clues and even tear your delicate pillowcases and sheets. Rubbing against coarse fabrics like denim and tapestry is also quite dangerous, as it leads to the abrasion of bamboo fibers.
If, for some reason, it is impossible to avoid "joint washing" put the bed linen in special bags for the washing machine. It will most likely be safe there, as the bag will create another layer of protection from other laundry.
Use a Mild Liquid Detergent for Your Bamboo Sleeping Accessories
Special gentle detergents will make your pillowcases and sheets fresh, soft, and fragrant. You can easily find the composition you need in the store. Some manufacturers may specify a list of these fabrics, while others may only specify "for delicate fabrics", but in any case, it will work with your bamboo bedding.
What exactly should not be used for bamboo bedding are fabric softeners and bleach. The former are useless (bamboo fiber products are very soft by themselves) and will reduce the moisture-wicking properties of the material. The latter is too aggressive and toxic, so your sheets will last much less with it.
Dry Your Bamboo Bedding Like a Pro!
When drying bamboo duvet covers and pillowcases, you have to kill two birds with one stone – to keep the fibers intact and avoid ugly folds that cannot be ironed out. Line drying will become your faithful ally in creating an aesthetic and cozy sleeping place.
If something goes wrong with line drying, a washing machine with a dryer will do. However, make sure that you have chosen the minimum temperature. In addition, no one canceled ironing on low or medium heat: tidy and a perfectly smooth canvas are a pleasant bonus.
Getting Out Problem Stains
Every day we devote 7-8 hours to resting. And the fact that we cannot constantly keep the bed linen perfectly clean and fresh is quite logical. Is it possible to do something about the stains on the bamboo bedding? They appear, no matter how much we would like the opposite... You can clean it! The most important thing is not to use bleach, which our gentle fiber is afraid of. And we will tell you about the rest.
Sweat
No matter how hard we try to maintain a comfortable microclimate in our bedroom, we all sweat from time to time, and this process is quite natural. After sweat gets on the fabric and interacts with bacteria, its spots turn yellow. This is also natural, but we cannot say that it is pleasant for us.
The best and only way to get rid of such a nuisance is to wash your bamboo (and any other as well) pillowcases and sheets regularly. Avoid bringing the stains to the state of old because it is almost impossible to remove them.
Blood
Even if you are not a maniac or a criminal who uses bamboo sheets to take victims out of the apartment (a moment of black humor, hah), something can still happen to you that will lead to blood getting on the bed. In this case, you will have to act very quickly, almost like the police.
First of all, rinse the fresh stain in cold water immediately until it turns pale. Then apply a chlorine-free enzyme cleaner and soak in cold water again for 15 minutes. Most likely, the stain will disappear almost completely, and you will be able to wash your laundry as usual. If there is no cleaner, use hydrogen peroxide (three percent will be enough).
Just in case, we remind you: remove the bloodstains while they are still fresh. If they are ingrained in bamboo fibers, it will be impossible to remove them completely, so hurry on.
How to Store Bamboo Bedding When Not in Use
So, you have washed the bamboo bed linen successfully, the ironing is over, and now comes the next stage of care – storing. If you don't put your favorite sheets and duvet cover on the bed right away, follow a few simple rules:
1. Put the bedding in the closet when it has already cooled down after ironing.
2. Make sure that the sheets are completely dry and that the closet is dry as well.
3. Do not use cardboard or plastic packaging.
4. Avoid storing bamboo fiber products in direct sunlight.
As you can see, there is nothing extraordinary in these rules – but your duvet covers, pillowcases, and sheets will look fresh and intact for years.
Frequently asked questions
How often should I wash bamboo bedding?
Your bamboo sheets and duvet covers need a refreshing wash every 1-2 weeks. That will make you feel clean and fresh when sleeping, and besides, it also helps to restore stretched fabric fibers. The less often you wash your bedding, the more it stretches and the worse it returns to shape.
Is baking soda good for bamboo bedding?
Baking soda is not only a great natural cleaner but also an excellent deodorant that can cope with stains and odor. Use it in the following proportions: ¼ cup of powder to 1 cup of water.
How to wash a bamboo pillow?
To avoid losing springiness, wash bamboo pillows by hand, not in the washer. Add to warm water (30°–40°) a dash of detergent and, after a few minutes, rinse it. That's all!
Take care of your bamboo bedding and enjoy all its benefits!
We hope that all our tips will help you keep your bamboo bedding in flawless condition for many years. All these measures are suitable for any sheets, pillowcases, duvet covers, and other bamboo fiber sleep products that you may like:
Staroon sells bamboo fiber pillows on US Amazon , and we have plenty of stock in our local warehouse in the United States: