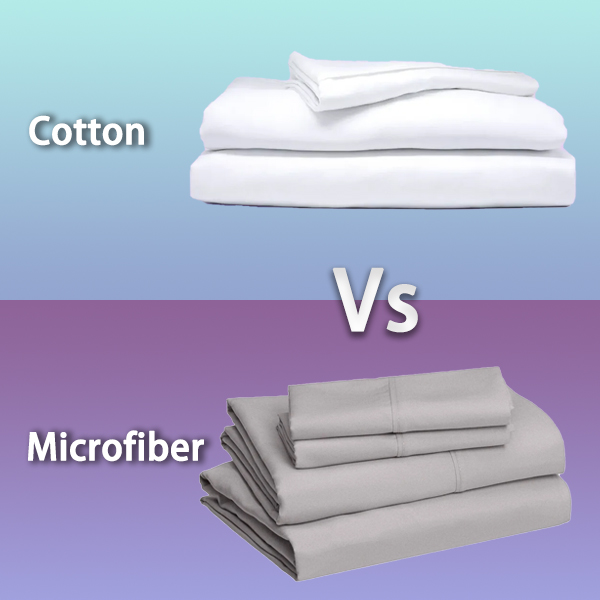 You've probably heard that the worst kind of unfreedom is freedom of choice. And it's not even that making a decision when there are many options may be difficult. It happens that this very decision turns out to be wrong. We started all this philosophy for a reason: when choosing bed linen (we mean the material from which it is made), such situations are not uncommon.
Cotton and microfiber most often turn out to be rivals in the struggle for our attention and the opportunity to provide us with good and sound sleep. So, which of them should take the palm? To answer this question, it is necessary to know the composition of both materials and their advantages and disadvantages. So, let's talk about microfiber and cotton bedding and see where your scales tilt.
Cotton Bedding: Features, Pros, and Cons
We have already mentioned that cotton is a natural material. This means that it is endowed with all the advantages of products made of natural fibers and even a few more. However, let's give up all these riddles and get to the point.
Cotton bedding pros:
1. Cotton is very soft and pleasant to the touch. Even if you have chosen bed linen made of thick fabric, you can enjoy all these sensations for a very long time and even after numerous washings. Moreover, you won't even need a fabric softener to do this.
2. Cotton is breathable. It provides good air circulation, gives an influx of coolness, and retains heat if necessary. You will be blissful both in winter and in summer, sleeping on cotton bedding.
4. Sheets, pillowcases, and duvet covers made of cotton are durable. You can use it for up to 5 years or even more and you will not feel that it has become less soft, thinner, or faded. If you prefer expensive cotton sheets and duvet covers, then you can use them for 6–8 years without being afraid of any wear and tear.
Cotton bedding cons:

1. Cotton bedding can be worn out quickly if it is made of too thin or poor-quality material, or if you use it too roughly, or wash your sheets extremely often.
2. You will have to iron cotton sheets, duvet covers, and pillowcases regularly if you want your bed to look neat and tidy. Alas, all natural fibers tend to be crumpled, and you should be ready for this when choosing cotton.
3. If you are striving for the highest quality of sleep, you will probably want to choose more expensive sets of cotton bed linen. However, some of its varieties, for example, mako-sateen, jacquard, and mostly Egyptian cotton are very expensive and look luxurious. So you'll have to fork out – although it may be worth it.
Microfiber Bedding: Features, Pros, and Cons
Microfiber is a fabric made of synthetic threads, including those made from natural raw materials. Most often, manufacturers choose cellulose, nylon, and polyester for it. All these fibers are very thin and smooth, and this allows you to weave them together and get a light and durable fabric. Microfiber has become a popular material for sportswear. However, bedding made of such textiles has many fans as well.
Microfiber bedding pros:
3. High-quality microfiber bed linen can last up to 3 years without sacrificing its benefits. However, if you wash it very often, the fibers begin to stretch, and your duvet covers and sheets wear out sooner.
5. As a rule, bedding made of this fabric is inexpensive, and you can afford it even if there is not much in your pockets. Of course, there are more expensive sets, but don't jump over your head, because the available sheets will provide you with a comfortable sleep too.
Microfiber bedding cons:

1. Unfortunately, due to its density, microfiber accumulates heat and, unlike cotton, does not take it away, so you may feel discomfort on hot days.
3. If you have soiled a microfiber sheet, you will highly likely fail when washing the stains off, since synthetic fibers absorb oils and dyes at once. So you'll have to be careful with donuts and Coca-Cola in your bed.
4. Microfiber sets can attract static electricity, which is not very convenient for those who prefer sleeping without any suspicious sensations or sounds (and this is probably almost all of us, isn' t it?).
5. Microfiber may cause some allergies. Of course, the cases are not so numerous, but if you have sensitive skin, take care.
How to Choose Between Cotton and Microfiber
Choosing between cotton and microfiber can be quite a challenge. So, which bedding should I give preference to? Let's look at all the criteria that we usually follow when choosing sheets and understand what exactly will be more important for you.
Feel and Comfort
Cotton is very soft, crisp, and cozy, and this feeling persists even after dozens of washes. In addition, you may feel some types of cotton fabrics (flannel, calico, etc.) slightly fluffy due to the structure of the fibers, but this may make your sleep even more pleasant.
Microfiber bedding seems to slip and resembles satin or silk. This is due to the smoothness of the fibers the fabric is made of. Microfiber sheets and duvet covers can give you a feeling of coolness, but not on a hot day when they accumulate all your heat due to high weave density.
Temperature
We have already written about how easily microfiber retains heat. You can take advantage of this in winter and autumn or if you live in a cold climate. However, if you aren't freezing or if heat is prevalent in your area, you should opt for airy and breathable cotton. A cotton bedding will provide you with the desired coolness and a sound night's sleep.
Durability
The thicker the cotton threads for your sheets and pillowcases are and the greater their number, the longer they will last. If we give figures, then this period can be up to 8 years. However, if you have chosen a thin material and fewer threads, you will have to part with your bed linen after 3–4 years.
The service life of microfiber sheets depends on the weave. If it is flat, you can use it for up to 4-5 years without fear of tearing and shedding threads. However, microfiber bedding with waffle weaves may become unusable after a year.
Maintenance
Both cotton and microfiber are mostly unpretentious and you can wash them in the washing machine. However, some varieties of synthetic fabric require special care — for example, washing at a low temperature or with a very soft detergent. Be sure to study the markings on its set; there are all the tips.
As for cotton sets, you can wash them as usual. However, there is a need for special care for some premium sheets.
Price
You can find cheap sets of both cotton and microfiber – and if we speak about premium bedding, this works the same. However, if we take the average cost (based on the same size), microfiber is usually cheaper than natural cotton.
Our conclusion
So, as you have already understood, microfiber and cotton have both similarities and differences, as well as their own pros and cons. So that you can make an informed choice, we have made a table for you that will make the decision more evident.
| | | |
| --- | --- | --- |
| Criteria | Microfiber | Cotton |
| Price (Queen Size) | $25-100 | $100-250 |
| Durability | 1-3 years depending on quality, loses elasticity and density little by little | 2-5 years depending on quality, retains color, elasticity, and density throughout the period |
| Breathability | Absorbent and moisture-wicking. However, it may trap body heat, which is not good for hot sleepers | Highly breathable and airy, great for hot sleepers |
| Variety | Several types of fabrics different in texture and density | A lot of cotton fabric types are different in the density and number of threads and the twisting technology (calico, jacquard, sateen, percale, mako-satin, etc.) |
| Comfort & Feel | Smooth, lightweight, and silky, giving a bit of a slippery feel | Soft, breathable, and crisp, may be both silky or a little fluffy depending on the type of the fabric |
| Cleaning & Care | Machine washable and dryable, sometimes demands separate washing and a special detergent | Machine washable and dryable, mostly undemanding |
So, we have described the key features and differences between cotton bedding and microfiber sheets. However, tastes differ, and the final decision is yours. Consider your habits, needs, the climate in your region, and your own feelings! You will surely choose the right bed linen.

Take a look at our catalog and make your choice:
Cotton bedding
Microfiber bedding
We are always ready to answer all your questions if you have any!