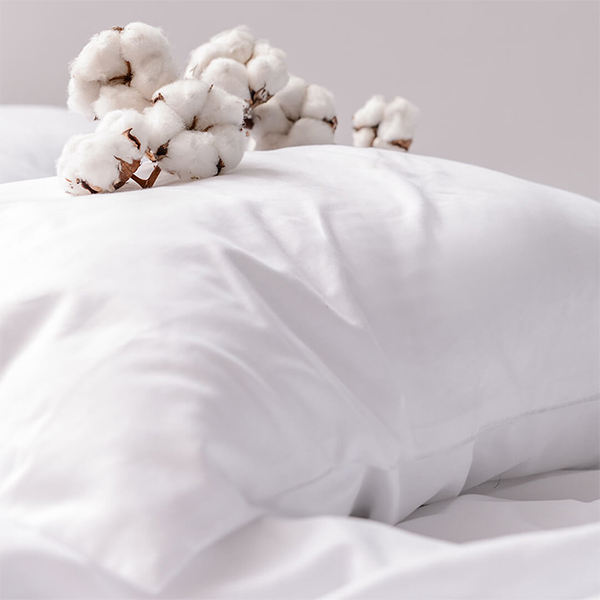 We are always looking forward to great rest and a new charge of energy from our sleep. That is why it is so important not to take the arrangement of your sleeping place carelessly, and if you think that all the hassle can be limited only to the choice of mattress, pillows, and blankets, then you are mistaken. Sheets, pillowcases, and duvet covers are equally important. After all, your skin contacts them at night, and your feelings, mood, and vigor depend on how high-quality bed linen you use.
The type of material is the key point in choosing sheets for a great sleep. We wouldn't be surprised if you put your eye on cotton. Damn it, this is the real classic in the world of bed linen, and blunders are extremely rare here. However, you can make your stay in bed magical and flawless if you find the perfect bedding for you in this endless ocean of options. Our carefully compiled and brilliant guide is already here to help you find the perfect night's sleep on the best cotton bed linen for you!
How To Buy Cotton Bedding Like A Pro
A bit later, we will discuss such global issues as the fabric of cotton bed linen, color, design, and price. And to warm up, let's talk about the little things that turn a newbie in the world of buying cotton sheets into a real guru.
1. Measure twice, buy once. This phrase should become your motto. Every time you go to the bedding store, measure the mattress, the duvet, and pillows carefully to understand what length and width of the set suit you. We are sure that the constant running to the store for a replacement is not included in your plans.
2. Try cotton bed linen by touch. We agree that sellers do not exhibit all sets of sheets, but you can do it yourself. Print out the cotton set you like and feel how pleasant the sheets are for your skin. Keep in mind that they will become even softer after several washes, so see for yourself how comfortable the sensations are for you.
3. Find out more about the manufacturer. You can do this online or consult with the seller and read the instructions and certificates. This will give you more information about the durability and comfort of the cotton bedding, as well as its composition and type of weaving.
4. Check the quality of the tailoring. Study the stitches on the sheets and pillowcases. If they are small, tight, even, and without loose ends, you are dealing with high-quality products.
5. Be rational when it comes to spending on bed linen. Even if you are so fascinated by an expensive cotton set that you are ready to fork out in full, try to limit yourself to a couple of pillowcases, to begin with. The fact is that even luxury sheets may not be what you expected (and this is a matter of taste), so in this case, the waste of money will not be so disappointing.
So, we talked about some small but still important secrets. It's time to move on to the main course — that is, we mean, talk about fabric for cotton bedding.
Start by Choosing the Type of Fabric
Cotton is incredibly popular not only for bedding but also for underwear and clothing. However, do not think that all this is the same fabric. There are a huge number of cotton fiber materials. They differ in the processing method, the manner of thread twisting, as well as their thickness. And now we will tell you in detail about the most popular fabrics from which pillowcases and sheets are made.
Egyptian Cotton
Egyptian cotton bed linen has become a symbol of genuine luxury. Indeed, it is difficult for us to name another fabric that would be as light, incredibly breathable, and surprisingly durable and would also have the same luxurious texture. In addition, it has another secret: the ability to become even softer and more pleasant with each wash.
Let's reveal one more mystery to you: in fact, this cotton is not obtained from a widespread plant that is familiar but from a special variety called Gossypium Barbadense. Breeders grow it just in a few small areas on our planet, so aesthetes consider any products made of Egyptian cotton to be true exclusives.
An important feature of Gossypium Barbadense is elongated and at the same time strong fibers that allow getting thin and wear-resistant threads without sacrificing softness. That is why Egyptian cotton products belong to the luxury class, and if you can afford such sheets, then sleep will turn into bliss for you.
Pima Cotton
Pima cotton was introduced to the market as a competitor to the legendary Egyptian cotton and comes from the USA. It is obtained from the variety that farmers grow in the American southwest, so its products also belong to the premium category and are not cheap. Thanks to the combination of long and medium-length fibers and a special twist of threads, Pima cotton bed linen acquires an amazing softness and an exquisite muted shine.
Upland Cotton
As you can probably understand from the name, cotton for this fabric grows in the mountains in several areas of South and North America, although today this variety is grown in other regions. Its fibers are shorter than those of elite-grade raw materials, so it is slightly less durable and may not seem as soft.
Moreover, you have probably come across products made of upland cotton, and that has happened many times. The fact is that most of the bedding sets that you see in stores today are made from this natural cotton fabric.
Percale
Percale is a cotton fabric with a plain weave. It is characterized by a large number of threads per square inch (as a rule, it is 180 threads or more). Therefore, it is very dense, looks expensive, and accentuates the beauty of any drawings and patterns.
Cotton Jersey
This fabric has an interesting weaving manner. Unlike the cloth we talked about above, the cotton jersey has a non-woven but knitted fabric. And we do not doubt that you have already appreciated its softness and comfort. Don't you believe it? See what your favorite T-shirt is made of.
Combed Cotton
To get combed cotton, the manufacturer has to put in a lot of effort. Natural threads are subjected to repeated brushing to remove all short fibers and get a perfectly soft and very smooth surface. This fabric is suitable for T-shirts and blouses, as well as for bedding.
Flannel
The flannel texture is the exact opposite of combed cotton. In this case, manufacturers use technology that allows them to fluff the fiber as much as possible and get a soft and incredibly cozy fabric.
The light and frequent pile of flannel sheets retain body heat, which makes it a real lifesaver for those who live in a cold northern climate, are often cold, or just want to feel the true comfort and a warming vibe on long winter nights. Besides, you can often see funny festive patterns on the bed linen – and this is a great idea for Christmas gifts.
A small remark: when buying flannel pillowcases and duvet covers, pay attention to a very interesting parameter – an ounce per square yard, which replaces the indicator of the number of threads characteristic of ordinary cotton. This can be explained by the fact that this material is quite voluminous and heavy, and the more fluffed threads in it, the greater its weight – which means that the quality is also higher.
Polycotton

Another name for polycotton bedding is "easy care". It cannot be called either cotton or natural, since the cloth is a mixture of natural threads and polyester fibers.
Such bed linen sets have many benefits. They are really cheap. You can wash them every day because they dry quickly, and it is not necessary to iron them at all. However, polycotton does not look too refined, it wears out in several months, and it does not pass heat and moisture well. We recommend keeping these sheets just in case – for example, for unexpected guests.
Thread Count — Is Higher Really Better?
The number of threads is an important option when assessing the quality of bed linen. It shows how many threads are woven together into one square inch of material. This is what affects such features of your cotton sheets and duvet covers as density, softness, and durability.
As a rule, manufacturers prefer canvases with a number of 200–800 threads, but 400–600 is quite a balanced number. At the same time, the principle of "the more – the better" does not work here. Sheets with a number of threads exceeding 800 per square inch may be too dense and rigid. It will be very difficult for you to iron them, and besides, they are quite fragile and quickly become covered with pills.
What to choose? The advice is still the same: stick to the golden mean of 300-600 threads. It is this kind of bed linen that is most likely to provide you with the necessary comfort and softness.
Sateen or Percale
Another important proof that you have bought really high-quality cotton sheets is the type of weaving and twisting of threads. Here your attention should be focused on two main varieties: percale and sateen. Both of these weaves deserve to be discussed in more detail.
Sateen Linen
We have already mentioned the amazing consonance of the name of this weave to the luxurious satin. Cotton with a sateen weave resembles this fabric in many ways: it is the same silky and pleasing to the eye with an exquisite light sheen.
The weight of such a fabric is slightly more than that of percale, and the warming effect is higher. That is why it will perfectly suit the cold sleepers – and aesthetic cold sleepers as well. All the other disadvantages and advantages of cotton sateen sheets are in the table below.
| | |
| --- | --- |
| Pros | Cons |
| Do not form wrinkles and require a minimum of ironing, always look luxurious and smooth | The sheen may fade over time (however, the color will stay the same) |
| Refined silky texture | The risk of snags is high |
| Slight exquisite sheen | Keeps you warm but in summer you may feel hot on satin sheets |
| Drapes well | It can slide and bunch on the mattress, so you will have to buy an additional cover |


Percale Bedding
Sheets and pillowcases made of cotton threads with percale weave (one yarn under, one yarn over) are attracted by their matte texture and lightness. These sheets will keep you cool, even if you are a hot sleeper.
At the same time, it is important to understand that percale is not the name of the fabric but the type of the weave. It is suitable for all-natural and non-natural fibers, including lyocell, bamboo, polyester, and viscose. They all have their benefits, which, however, we will talk about later. In the meantime, let's go back to cotton percale duvet covers and sheets and invite you to look at the table, which presents all their advantages and disadvantages.
| | |
| --- | --- |
| Pros | Cons |
| You may sleep on them for up to 5-7 years | Get wrinkled after washing, and need ironing at increased heat |
| Very breathable | Not as soft as sateen sheets |
| Become softer overtime | May fade and lose the clarity of the pattern |
| Gives a light and crispy feeling | |


What to Choose?
So, to sum it up, both cotton bedding with sateen and percale weave have their benefits. All you need to do is to determine which one suits you best, and we will give you a few hints for this.
So, sateen sheets will be the perfect choice for you in the following cases:
You like their luxurious look and light sheen.

You often get cold at night and want to warm up quickly.

Ironing is a real challenge for you!
However, you can keep an eye on the percale set if:
You like a slight coolness in the bedroom.

You prefer very soft sheets and want this feeling to increase over time.

You are fond of naturalness and freshness.
Do we hope the choice is obvious now?
Make Sure You Got The Right Fit
No matter what fabric your cotton bed linen is made of, be sure to consider its size. The fact is that natural cloth practically doesn't stretch, so you will not be able to pull on a too-small pillowcase or a sheet. Check out the most popular sizes of cotton sets on our list.
Pillowcase sizes: Standard: 50cm x 75cm * King: 50cm x 90cm.

Flat sheet sizes: Single: 180 x 275cm * Double: 230 x 275cm * King: 275 x 275cm * Super King: 305 x 275cm.

Fitted sheet sizes: Deep fit, up to 40cm / 15.7" mattress depth - Single: 90 x 190cm * Double: 135 x 190cm * King: 150 x 200cm * Super King: 180 x 200cm.

Duvet cover sizes: Single: 140 x 200cm * Double: 200 x 200cm * King: 230 x 220cm * Super King: 260 x 220cm.
Also, you should take into account that cotton products give a slight shrinkage after washing. Measure your pillows and blankets, as well as the length, width, and height of the mattress to avoid sad mistakes.
Choose Style and Design
So, let's move from usability to aesthetics – namely, the design of your cotton bed linen. And here we have prepared for you several recipes for your visual comfort and impeccable bedroom.
Lean towards a calm and soothing palette If you really want to have a good night's rest, the color decides. Even if you are crazy about bright shades, keep them for the kitchen or living room.

Neutral bedding is the best choice. The light and pastel colors of cotton sheets will create the feeling of sleeping on a cloud.

Take a closer look at exquisite, geometric, or unusual but not too colorful and variegated patterns. These sheets will add personality to your bedroom.

Don't forget about coordination! If the room is designed in the same style, the design of your bedding should contribute to the overall harmony. Otherwise, your bed will seem like an alien element. You don't want to experience irritation instead of joy from the perfect balance, do you?
Your Budget
The price range for cotton sheets and duvet covers is very, very wide. It all depends on the type of fabric and weave. So, for example, percale will cost a little more than sateen, and Pima cotton will be more expensive than upland. The number of threads also affects the price, but do not be tempted by an impressive figure – sometimes it is nothing more than a marketing ploy.
In general, get ready to pay at least $ 100 for the pillowcases and sheets you like. The sets at a lower price are made of polycotton, and this, as you understand, is not your choice. If you want to get excellent and natural cotton bedding, prepare your purse. Believe us, it's better to have just one or two high-quality sets than five of these, which will upset you every time you go to bed.
Does the Retailer Provide a Guarantee for the Quality?
Not only the beauty and quality of natural cotton bed linen but also the seller's responsibility can affect the positive impressions of your purchase. Trust responsible and reliable dealers who are conscientious about the quality of products and carefully select sets from their suppliers.
Our store offers cotton bedding for those who prefer decent and high-quality products. We highly appreciate your trust and dedication, and therefore, we provide a return guarantee for all kits. If you are not satisfied with the purchase for some reason, we will definitely offer you something better.
Frequently Asked Questions About The Best Cotton Bedding Products
Why is cotton often chosen for bedding?
We have praised the virtues of cotton hundreds of times but we can repeat everything again. Cotton is light, breathable, comfortable for the skin, durable, and easy to care for. You can purchase both sheets and duvet covers and cotton sleepwear. So you will create a cozy and soft cocoon around you for a fabulous rest.
What type of cotton is best for sheets?
Today cotton with extra-long fiber (called long-staple fibers) that can be spun into fine, strong yarns is considered a perfect raw material for high-quality bedding. Such cotton varieties include Pima and Egyptian. Of course, this does not mean that other species are unworthy of your attention. However, if you are a perfectionist, this information is exactly for you.
Is a higher thread count better?
A certain logical chain works here: the more cotton threads per square inch the cloth contains, the thinner they are. Thin threads give a smoother, softer, and more durable canvas, so you will definitely win here.
Choose High-quality Bed Linen!
Sound sleep affects the quality of our lives in general, including health, appearance, mood, and energy. Only natural bedding can provide the conditions for a good night's rest, and therefore you should not neglect the search and purchase cotton sets that are suitable for you. We invite you to take a look at the choice at our store! You will surely find the key to your perfect sleep here:
Ask anything, we are always in touch!