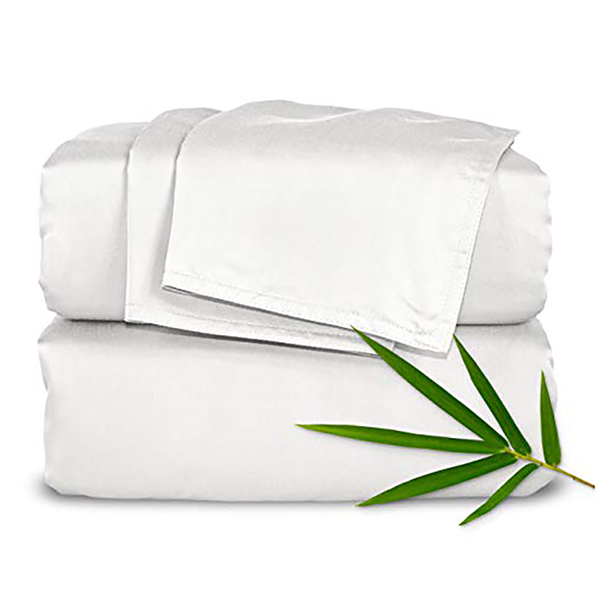 Bamboo bedding has gained a huge amount of attention over the past few years. We dare say that today it is in demand as much as cotton or microfiber sheets – or at least only a little less. Their softness and tenderness, breathability, environmental friendliness, a sense of comfort, and ease of care have become the very advantages that it is impossible to resist. Sleeping in a bed arranged with bamboo fabric promises to be strong, sound, and extremely pleasant.
We assume that you know all this perfectly well without us. Moreover, you can probably plan to purchase bamboo pillowcases, pillows, sheets, and duvet covers. However, we would like to warn you that buying it is not as simple as it may seem at first. Manufacturers offer a huge number of textures, weaves, and colors in a wide price range, and one may simply get lost in the selection process. However, down with the panic! We are here to help you choose bamboo bed linen that can give you the necessary comfort, rest, and health.
Step 1. Decide – Do You Really Need Bamboo Bedding?
Let's say right away, that bamboo bedding can hardly be called inexpensive. Cheap bamboo sheets just DO NOT exist – as well as, for example, cheap natural silk or natural cashmere at the price of knitwear from a discount store. So it is here: high-quality bamboo linen is expensive, and you have to take it for granted.
However, it is likely that you will not quibble over the price because duvet covers and pillowcases made of bamboo will attract you due to the unconditional advantages:
Softness with a special meaning. Bamboo sheets are not just extremely soft (if, of course, you understand what we are talking about). The fact is also that they are hypoallergenic! This fabric is the friendliest to sensitive skin, and even if cotton causes you discomfort, thanks to bamboo bedding, you can forget about it at.

Non-dusty. Bamboo fibers are twisted in such a way that microvilli are practically not separated from them – this process is more typical for cotton, for example. Although this property of both cotton and bamboo is harmless in most cases and necessary for airiness and heat preservation, the second option is better for you if you suffer from asthma.

Moisture absorption. Thanks to bamboo bedding, you can always sleep on dry sheets, even if you sweat a lot. And one more bonus: the dry environment is unfavorable for bacteria and mites, so they are unlikely to disturb you.

Air permeability. Bamboo fabric is breathable, so you will be cool on such sheets even in hot weather.
So, if you are looking for pillowcases and sheets that meet absolutely all these criteria and at the same time you are willing to pay for them, bamboo fabric is the perfect choice for you.
Step 2. Know the Difference Between Types of Bamboo Fabric
Bamboo fibers are part of many fabrics, including materials for bed linen. However, if you are looking for the best sheets and pillowcases, focus on finding products in which the content of natural bamboo is at its maximum and tends to be 100%. In this case, you can be sure of its eco-friendliness and great usability, for which, as you have already learned, it is rather well-known.
As we already found out, bamboo fiber is natural, but it becomes so under the influence of various mechanical processes. At the same time, technologists can obtain it from natural cellulose by regeneration and some special chemical transformations. Fibers of this type are not synthetic, since cellulose is essentially a vegetable fiber, but at the same time, they cannot be called absolutely natural, because petroleum-based components are involved in their production. They have most of the advantages of 100% bamboo, but it is the natural material that can give true confidence.
Based on the peculiarities of production, there are four varieties of bamboo, which are popular in the sewing of bed linen. These are 100% bamboo viscose, 100% bamboo modal, 100% bamboo lyocell, and raw bamboo linen fiber. The difference in the processing of fibers for all four types gives each of them its own individual characteristics.
If you want to buy bamboo bed linen that will fully meet your wishes, it is worth learning more about each type of fabric. We suggest looking at all of them in more detail. We hope that the information below will come in handy.
100% Bamboo Viscose
Bamboo viscose (aka bamboo rayon) holds the palm as a material for the production of sheets, duvet covers, and pillowcases from natural bamboo. And don't let two different terms for this fabric confuse you: the first is more popular in Europe, and the second is in North America. At the same time, many manufacturers try to use both terms at the same time in order to attract buyers in both markets.
The advantages of bamboo viscose bedding (or rayon, if you like) are softness, hypoallergenic, natural thermoregulation, and resistance to odor and bacteria. In addition, this material evenly absorbs and retains dyes, so you get the opportunity to choose bed linen from an incredibly extensive palette of colors and shades.
100% Bamboo Modal
The production technology of bamboo modal is almost the same as creating bamboo viscose. However, it includes additional processing for greater stretchability. Compared to viscose, this fabric is thinner, lighter, and more durable. Bamboo modal is good not only for bed linen but also for sportswear and textiles.
100% Bamboo Lyocell
The production of lyocell is a very interesting process, where bamboo pulp and a high–tech solvent without any toxins are involved. The technology of fabric creation is a closed-loop system that allows manufacturers to save up to 98% of the water in the fibers and get an incredibly soft and durable material. In addition, such a production cycle is the most eco-friendly since it does not require a lot of water and energy and does not involve harmful effluents.
Bamboo Linen Fiber
This bedding fabric will appeal to those who are against any chemical components. The production of bamboo linen fiber does not require them at all: the process is completely mechanical and similar to the one that is applied to create linen cloths from other natural fibers, including flax and hemp.
Natural bamboo is needed for this fabric. Specialists crush it mechanically and then spin the raw material into yarn. The finished fabric is quite dense, somewhat rough, and can be crumpled quite easily. Bamboo linen is not a very good solution for people with sensitive skin but if this texture meets your taste, why not?
Bamboo Cotton Blend
Other fibers can be added to bamboo fibers for greater strength. As a rule, this is cotton, which content can vary from 30 to 40 percent. Some experts claim that due to the use of chemicals for the production of cotton fibers, the overall environmental friendliness of the material may decrease. However, since cotton is natural in itself, this difference is not critical.
Step 3. Choose the Right Weave
Like cotton fabrics, bamboo materials may differ in the nature of their interweaving of threads. This feature affects both the look of your bed linen and the sensations that it gives you. Today, there are two types of bamboo weave – twill and sateen.
Twill
We can call this type of weave standard because it is typical for most bedding, including sheets, pillowcases, and duvet covers. Twill is a loose weave with a diagonal edge of threads (rib). You can determine this type of weave by yourself if you look closely at the bamboo product. The twill sheet has threads going in one direction, so no other special knowledge is needed.
Bed linen made of this type of fabric has something to brag about. It is very soft, durable, a little wrinkled, and does not form creases. Its only drawback is the pilling of the villi, which causes pellets on the sheets.
Sateen
The name of this fabric is consonant with satin for a reason since there is a certain similarity between the two materials. The creation of a satin weave implies a special technology in which one thread turns out to be under three over. As a result, we have a very dense, silky, and quite light fabric with an immaculately smooth texture. Unlike twill, you will need to strain all your vision to see the weaving of threads – although it is possible that you will not see it at all.
The problem of satin is its pilling and vulnerability to careless operation. Bamboo bedding made of such a fabric requires special and delicate care to preserve its luxurious look.
Step 4. Know the Thread Count Matter in Bamboo Sheets
You probably know that when choosing cotton products (of course, we mean bedding too), the number of threads matters. However, cotton and bamboo textile fibers have a number of differences, so the count in both cases will be different. So that you know: 1000 threads of cotton are equivalent to 350 threads of bamboo, so take it into account.
How bamboo bedding thread count can affect breathability
On the one hand, a large number of threads in bamboo pillowcases and sheets make them smoother and softer. However, if this number is noticeably exceeded, we get a very dense weave. It is more durable, but such bed linen is less breathable and not so effective when absorbing moisture. This means that you should still look for a middle ground when choosing the number of threads in your bamboo bedding.
How bamboo bedding thread count can affect softness and smoothness
We have already described the dependence between the number of threads and the softness and smoothness of your sheets earlier, so we just would like to add that the number of threads should be moderate and at the same time sufficient. If there are too few of them, your bamboo sheets will be too uneven and not as soft. In addition, they quickly form hooks and microfractures.
Step 5. Attention to Shrinkage
Fabrics made of linen, cotton, and bamboo have one common and slightly distressing feature – they shrink when washed. That is why it is so important to find out what the manufacturer of the bamboo bedding set that you are planning to buy suggests:
complete conformity with the size;

the need for additional washing to make your sheets, pillowcases, and duvet covers shrink exactly under your mattress, pillows, and blanket.
In addition, it is important to know that sheets with satin weaves are less susceptible to shrinkage than those with twill fabric.
Pay attention to the price: suspiciously affordable bamboo sets can shrink greatly due to the presence of a large number of additional fibers. However, if you prefer premium bedding, you will almost never risk it: it fits perfectly at once in most cases.
Step 6. Choose Your Style and Color
If you want your bedroom to look flawless and tasteful, then it is important to pay attention to the style and color of your bamboo bedding. Its shade and pattern should perfectly match the color palette of the room, without creating a bright or inappropriate accent.
If you don't want to puzzle over these numerous color nuances, just pick up bamboo sets in a neutral or light shade—perhaps even monochrome or with a very light, barely noticeable classic pattern. Do not hesitate, they will suit any bedroom. Well, for more drama and sensuality, sheets in shades of precious stones (ruby, emerald, and dark blue) will be a great choice.
Step 7. Check Reviews
It is not necessary to buy all the bamboo bedding in a row to find the option that exactly suits you. It is much more reasonable to study the reviews of those who have already used the set you are interested in.
At the same time, not all reviews can be impartial. All this is a matter of personal taste, and, in the case of bed linen, compliance with the rules of care. So read as many responses as possible and engage in critical thinking, paying attention to the less emotional ones – as a rule, they contain more real facts.
Step 8. Does the Retailer Provide a Guarantee for the Quality?

As in any other field, there are both honest and indecent entrepreneurs dealing with bed linen sales. The former is extremely attentive and even picky about the quality of their goods, including bamboo bedding, and are therefore so confident in them that they are ready to provide quality guarantees.
So, for example, when buying in our store, our customers can return the bed linen if it does not fit them for some reason. Of course, these cases are unlikely, but we are eager to give you complete freedom of choice.
Step 9. Compare Price
You will not be able to buy an authentic (and, remember, high-quality) bamboo set for less than $60. Tempting offers on Amazon may lead you astray, but we are in a hurry to dispel them: everything offered for $30 or something like that is made of polyester. So if you want natural bamboo and excellent quality, get ready to pay the price.
At the same time, we would like to reassure you that your expenses will pay off handsomely. The comfort, tenderness, softness, and durability of your bamboo bedding will make you sure that high-quality and natural fabric is an excellent investment in your health and well-being.
So What is Your Check List for Buying Bamboo Bedding?

Make sure that the label on the set of sheets confirms that they are made of bamboo lyocell or CleanBamboo. It is impossible to find the sign "100% bamboo" on a product in the USA because it is prohibited by law. Instead, traders have to specify the exact type of fabric – for example, "bamboo viscose/rayon" or "bamboo lyocell." There are no such strict legal requirements in Australia, so for this region, there is typically the indication "100% bamboo".

If you need more softness, comfort, and durability, choose bamboo bedding with a twill weave. Fans of silky smoothness and a luxurious look will feel satisfied if they prefer sateen. However, in this case, make sure that you are ready for the delicate care and handling of such pillowcases and sheets.

Use thread count to determine if the density and softness of bamboo duvet covers and pillowcases suit you. Perhaps 300 will be too little for you, and 1500 is too much, but everything is quite personal here.

Give preference to stores with a guarantee. Trust decent sellers who do not doubt the quality of their goods and, at the same time, are ready for refunds if the buyer has such a desire.
Frequently Asked Questions About The Best Bamboo Bedding Products
1. Is Bamboo Bedding Recommended for People with Allergies?
Yes, and that goes without saying. Bamboo bedding is equally friendly to people with respiratory health conditions, and to those with sensitive skin and a tendency to allergic symptoms.
2. How Are They Washed And Taken Care Of?
You can wash your bamboo set in the washing machine and not even use too hot water, which is also good for your purse. We have already written about this in our article.
3. What Makes Bamboo Fabric Eco-Friendly?
We can safely talk about natural bamboo as a renewable and sustainable natural resource. It grows well and never requires additional irrigation or the use of chemical fertilizers.
4. How long do bamboo sheets last?
Bed linen made of 100% bamboo fiber can last you up to 15 years or even more – of course, if you take care of it properly. If you take cotton sets, which can serve you just for 3-5 years, then bamboo sheets become the most reasonable purchase in the long run.
5. What size bamboo sheets are most commonly available?
Natural bamboo bed linen is available in a wide variety of sizes, including the most popular Twin, Twin XL, Full, Queen, King, and California King.
Choose High-quality Bamboo Bedding and Enjoy the Comfort!
Now you know everything you need to choose bamboo pillowcases, sheets, and duvet covers that will suit you by all criteria. This bedding will become the basis of your sound sleep and impeccable comfort, as well as a symbol of true well-being. We offer you a more detailed acquaintance with such products:
We are proud of our caring attitude towards the range of products and our ability to offer our customers high-quality bedding for every taste. If you want to know more about bamboo products, just leave a comment or write to our official email address.