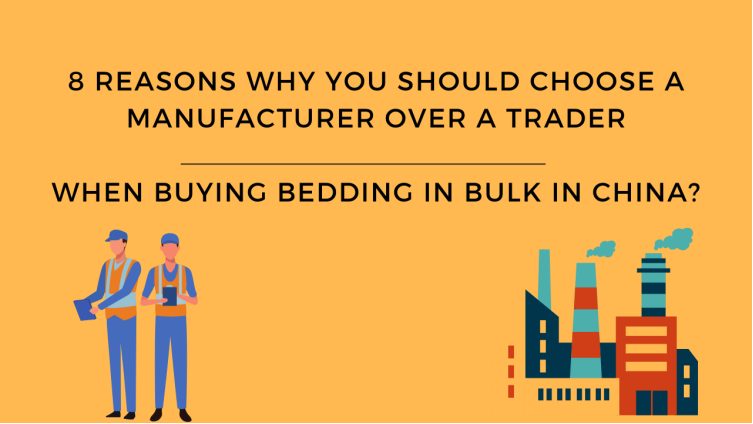 If you are looking to buy bedding in bulk, it is important to understand the differences between manufacturers and traders.
Manufacturers make the product themselves while traders import it from other Manufacturers.
This means that the trader is overwhelmingly a middleman.
China is not only the world's manufacturing powerhouse, but it also has one of the biggest wholesale markets. These huge trade floors are bustling with activity as sellers from all over come to sell their goods at reasonable prices and make a Win-Win. China is a manufacturing powerhouse with infrastructure and several industries and a complete supply chain, and the formation of different regions, different products, different characteristics of the industry belt,This means that if you want to source a product, you will find everything from raw materials to finished products in one area.
Buying directly from China manufacturer can be a great way to save money. Not only do you get the best prices, but there's no need for any go-betweens when dealing with such large companies! In international trade, the shorter the supply chain means that there are fewer intermediates, and the less benefits are distributed.
When you choose a manufacturer over a trader, Here are 8 reasons to help you make a decision, let us look at it together!
1. Product Quality
Manufacturers produce their own products, they can strictly control the production process completely by themselves, and good manufacturers have their own quality inspection system, whether from the raw material procurement stage, or product production, product delivery stage will set QC to repeatedly check, which means that manufacturers can provide you with high-quality products
Traders import product from different Manufacturers and can't guarantee its quality because they don't Effective product production monitoring is maintained at all times.
It's true! When you buy bedding directly from China manufacturers instead of through another third party, you're guaranteed to get the best quality for your money.
Manufacturers minimize their purchasing, production, and distribution costs by not having a middleman in between them and you. This means that they can offer more competitive prices than traders who have higher overhead rates due to all of the various go-between services they provide.
Material
Costs for manufacturers are much lower than for traders, so manufacturers can afford to sell their products for a very similar price or even cheaper than what traders would offer you!
In addition the manufacturer is purchasing raw materials for production and already controls the manufacture of the final product from the source side, whereas the products purchased by traders from other manufacturers are only the final product and cannot effectively control the raw materials. Especially in the field of bedding, the quality of the raw material can have a great impact on your sleep health.
As long as you have your own import license, there's no reason why you should allow anyone else to touch your product but the manufacturer themselves.
As you can see, there are many advantages to buying bedding in bulk directly from China manufacturers instead of traders. It's easy to find out which factory is best for your needs simply by asking around and taking the time to research different companies before making a final decision about who will be responsible for providing you with excellent quality goods at wholesale prices!
2. Price
Manufacturers are able to sell their products at a lower price, they deal directly with you and don't have any middleman costs from supply chain.
You get the best prices when buying bedding in bulk from China manufacturers!
because if you cooperate with the trader, the trader still needs to buy from the factory, However, the price of goods when the factory sells the trader has added the profit that the factory needs to obtain, and the trader cooperates with you to increase their required profit again to form the final price, then the price you get will bring There is the sum of the profit of the factory and the profit of the trader.
So,It's easy to see why manufacturers are able to offer such competitive prices on their products.
You'll save more than just money when buying bedding in bulk directly from China manufacturers. You'll also save time. By cutting out the middle man, you can talk directly to the manufacturer of the product, making it more efficient and convenient to deal with urgent issues rather than having to relay them through a middle man, and as you know, Time Is Money!
3. Payment Terms
The payment terms are the most important conditions buyers should ask for when buying goods or services.
Traders are basically small companies and do not have much money in circulation. However, they ask the buyer for a large amount of payment in advance or even full payment. This puts pressure on the buyer and they feel uncomfortable.
On the other side, manufacturers are generally medium to large companies and they have good capital in circulation. Therefore, they offer more flexible payment terms and conditions. Also, If you have large, long-term, stable orders, most companies can accept Open-account (OA) 30 days payment terms or any better options to support you!
In this regard, buyers should always inquire from the trader or manufacturer about the payment terms. They must specify their preferences and point out any negative aspects they might have to pay more or incur a penalty for late payments.
Types of Payment Conditions
There are a number of ways you can pay for goods or services, and this will depend on your needs.
Payment in Advance: This is a situation when a buyer makes a payment to the seller in advance before getting goods or services from them.
Payment on Delivery: Payment is made when getting goods or services so this is easier than paying in advance.
Open Account Trade (OA): An open account trade can be defined as an arrangement where the buyer's payments are on the basis of credit.
4. Production Capacity
Factories are generally better at predicting long-term production capacity than traders because it's easier for them to keep track of their own machines and employees.
Traders do not have their own production capacity and if they rely on other manufacturers to produce, they often receive limitations in terms of production capacity, delivery times and so on, because as you know manufacturers of a certain size often have a lot of customers, which means that traders have to queue up for orders produce, especially if they are small order. So, This means that traders can't ensure they are able to make sure in a timely manner for small batches or large orders.
If you want your product to be of the highest quality, find a stable factory production. If not, then try some other suppliers that can produce good products for reasonable prices!
Remember, the factory is the place where your items will be produced. Most likely, they will have a large inventory of materials and tools with which to work on your order.
Availability
Manufacturers have a greater range of products available because they produce everything themselves.
Traders depend on suppliers to provide their products, which causes product shortages and discontinued items as well as long lead times for new orders.
When you buy bedding in bulk directly from China manufacturers, there will be no need to worry about product shortages or discontinued items because they are the ones who produce it!
Variety
A manufacturer can produce a broader range of styles and designs, They can arrange quick production samples to meet your needs, because they are factories themselves.
Traders will most likely only have the same types of products or existing products available since they buy all of the products themselves from the manufacturer, which means that you won't be getting unusual or unique items like custom-made bedding for your hotel/home rooms.
When you buy bedding in bulk directly from China manufacturers, not only can they provide a wider range of styles and designs than traders offer, but the fabric that it's made out of will be unique to your order!
5. Certificate
Traders generally do not apply for international certification themselves but will go to the manufacturer if they want their products certified.
The certification procedure can get very complicated and is costly.
The manufacturer already has the certification for all product groups in China, so they can go ahead. The manufacturer has the better infrastructure for certification, enables them to apply legally, and offers you the certification directly.
The reason is that most traders can't provide certificates:
First, traders cannot produce by themselves. Secondly, The cost of applying for international certificates
Getting a certificate for the new product can be too much financial pressure to handle on the trader.
As a brand owner, you should be aware of the risks involved with buying from poor-quality suppliers. If your customers receive damaged goods or fabric that causes complaints due to low-quality material and workmanship, then this will reflect poorly on both them as well as what type/brand name they represent - whether it's intentional or not!
6. Product Delivery Time
Product delivery time of the order is placed with a manufacturer, there's no need to worry about it being delayed. On the other hand, The trader cannot control the delivery date. The reason is that traders don't produce products, they rely on manufactures. So that's the reason that you should buy directly from factories.
Why

on-time delivery

is so

important

to

your business?
On-time delivery is a vital aspect of any business. If your customers don't receive their order within a reasonable time, they will feel as if you don't take them seriously and they will likely not give you another chance.So you need a familiar and long-term stable manufacturer to reserve part of the production capacity for you, of course, you also need to give certain expected orders.
7. Security
In the world of large corporations, businesses that deal with money have a different set of standards when it comes to security.
The manufacturer has a plant, machinery, a large number of employed staff, and long experience, which means that the manufacturer is real and has a large amount of capital (including fixed assets), but the traders are often small office companies with a few people and do not have a good circulation of capital, or even a lot of capital to deal with unexpected events, It is still not uncommon for small traders to flee with advance payments.
In terms of new product development and confidentiality agreements, the larger manufacturers also have a significant advantage over the smaller traders. No one wants to spend money and manpower developing a new product and then have it leaked to a competitor.
Try to Ask yourself a question, if you had a large order to purchase and had to pay a 30% deposit, would you look for a trading company with a dozen people or a large, stable, and real manufacturer to work with?
8. New Product Development
The factory has a stable R&D team, which can quickly innovate and produce new products as the need arises. Traders on the other hand rely heavily upon factories for proofing; but with such an important step in between them, it's often too slow going or just not possible at all without compromising quality standards of both parties involved--which sometimes means that you'll be left out when trends come around again!
Manufacturers have much more time to focus on producing better products Because they can directly buy raw materials and use factory machines to try to make samples
Traders waste a lot of money and time finding suppliers, negotiating deals with various companies, coordinating shipments for large orders, etc., which takes away from their overall productivity.
Customization
Manufacturers have more freedom to customize their products because they can control what materials is used.
Traders will not be able to offer the same level of customization as manufacturers since they don't produce a wide range of styles and designs themselves, so it's likely that you'll only receive product samples with standard choices.
When you buy bedding in bulk directly from China manufacturers, you'll be able to customize your products by choosing the exact color of fabric that you want!
When you buy bedding in bulk directly from China manufacturers, they have more freedom and options for customization since they can control what type of fabric is used. This means that traders will not be able to offer the same level of customization and variety as manufacturers can.
How Can You Find Reliable Manufacturers Of Bedding Products?
The best way to find reliable manufacturers of bedding products is by doing thorough research. You can start with the internet or look for some trade magazines that list suppliers.
However, always remember not to rely on just one source if you are serious about your new business-- there might be many more options out there! One good option would be to contact an experienced sourcing specialist to help you find the perfect supplier for your needs.
If you're looking for a reputable company that can provide high-quality bedding products in China, then Staroon is here to help. Contact us today!
Choose Staroon!
We are a professional manufacturer of high-quality bedding. We're proud of our high-quality products and have been in business for many years.
- The quality bedding manufacturer in China.
- Our goal is to become a partner for your business success!
- Do not hesitate to contact us now by email: staroon@staroon.com
- Visit our website for more information: www.staroon.com
We're a professional bedding manufacturer, and we'd like you to know that we've been doing it since 2004.
Staroon is a reliable manufacturer of bedding in China and manufactures instead of trading, which leads to lower prices since we do not have any traders' margins added on top. We also manufacture many different products for the bedding industry, such as duvet, mattress, or pillows – all at a very attractive price!
What Makes Good-Quality Bedding?
Good-quality bedding is made from high-quality materials and has a long lifetime. Your customers will be happy with the product if it keeps its qualities for many years.
What Should I Watch Out For When Buying In China?
Unexpected costs of transport, customs fees, or packaging are among the most common reasons why companies end up with a bad deal when ordering bedding in China.
What Are The Risks If I Order From An Unknown Trader?
If your supplier does not stick to deadlines or has no intention of meeting quality standards, you will lose money and time by buying goods from them. You cannot contact them during Chinese holidays either, which makes it even more difficult to solve problems.
Conclusion
The main difference between a manufacturer and a trader is that manufacturers are responsible for producing goods, while traders are more focused on buying and selling.
To find reliable manufacturing of bedding products, start by asking yourself what your needs are. If there's no product available at any factories nearby, then it may be worth looking further away from home as long as they can provide all needed services such as sample making and so on.
Staroon offers these types of services alongside their wide variety of high-quality bedding options - we're confident you'll find something perfect.